Name:
Aron Cross
Age:
19
Gender:
M
Current Status:
Aron HP = 18
Aron Energy = 1
Aron Exp = 0/5
Aron CP = 0
Aron Rep = 0
Background:
Aron was abandoned as a child and was raised by a group of mercenaries. When Aron turned fifteen, he took the money he had earned and traveled the world. After four years of traveling he finally settled down in France where he discovers Lyoko. Despite his background, Aron maintains a somewhat kind hearted personality.
Description:
Earth
Lyoko
Class:
Defender
Weapon:
(with image):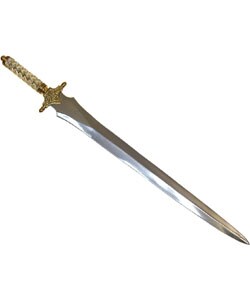 Keyra Sword
Level 1
Two handed/Melee ranged
Damage: 2-4 stab damage
Balance: 1
Effect: /
Enchantment: /
Skills:
Rend
Level 1
Effect: wounds the target dealing 50% of strength as damage and causing it to bleed for 2 energy over 5 actions
Cost: 1 energy
Cooldown: 5 actions
Casttime: 1 actions
Timeshift
Level 1
Effect: slows down all enemies around you for 3 actions, making it easier to escape from them or catch up to them (they get penalties on speed rolls).
Cost: 1 energy
Cooldown: 6 actions
Casttime: 1 action
Inventory:
0 Weapon Upgrades
0 Armor Upgrades
0 Skill Upgrades
Talents:
Barbarian
Furious Rage:
when your energy hits 0, gain the furious rage buff (dispellable), which does: strength is not afflicted by exhaustion and instead increased by 25%. + 1 for five actions. Does not stack.
Primary Stats:
Health: 18
Energy: 1
Inventory: 0/0
Skill Points: 2/2
Strength: 3
Hit Chance: 42 -> 84% +5%
Crit Chance: 2 -> 5%
Crit Rating: 1 -> +1 dmg
Toughness: 1
Resistance: -1
Parry Chance: 2 -> 5%
Parry Rating: 1 -> -1 dmg
Agility: 1 -> 1.5%
Secondary Stats:
First Aid:
Balance: -1
Inspect Item:
Inspect Magic:
Inspect Creature:
Climb: 2
Reflexes: 2
Hide: -2
Spot: 0
Jump: 0
Intimidate: 2
Concentrate: 1
Move Quietly: 0
Handle Device: 0
Swim: 0
Charisma: 1
Sense Motive: 0
Survival: 1
Speed: 2
Standing Solid: -2
Keen Eye: 0
Megatank





Posts

: 255

Character Sheet
Health::


(18/18)


Energy::


(1/1)


Experience::


(0/0)



Last edited by Atlas501 on Sat Feb 11, 2012 4:36 pm; edited 1 time in total
_________________
Captain General Lord Commander Atlas the Ostentatious, Minister of Common Sense, Reasoning and Similar Sh*t
Spoiler:
Admin (Atlas)





Posts

: 5304

Character Sheet
Health::


(5/10)


Energy::


(4/12)


Experience::


(0/5)



Inherent Bonuses:
Survival +2
Intimidate +2
Charisma +1
Hide -2
Standing Solid -2
Balance -1
_________________
Captain General Lord Commander Atlas the Ostentatious, Minister of Common Sense, Reasoning and Similar Sh*t
Spoiler:
Admin (Atlas)





Posts

: 5304

Character Sheet
Health::


(5/10)


Energy::


(4/12)


Experience::


(0/5)





Similar topics
---
Permissions in this forum:
You
cannot
reply to topics in this forum